Classic Easy Monkey Bread Recipe from Scratch
Super yummy classic easy monkey bread recipe from scratch. This yummy classic easy monkey bread recipe from scratch will have everyone licking their fingers and craving for more. These bite size gooey cinnamony sticky sweet delicacies are the perfect center piece dessert. Dipped in butter then tossed in a cinnamon sugar coating then baked to perfection. No wonder these are a classic treat.
Ingredients
Coating
 250 grams butter ( 1 cup)
8 grams ( 2 teaspoon)
200 grams brown sugar (1 cup )
100 granulated sugar (1/2 cup)
Sweet Bread Ingredients
240 grams all purpose flour (2 cups)
4 grams salt ( 1 teaspoon)
120 grams Milk ( 1/2 cup)
50 grams egg ( 1 large egg)
10 grams butter – 2 teaspoons
25 grams sugar ( 2 tablespoon)
10 grams Dried Yeast (2 tablespoon)
Instructions,
Preheat your oven to 185C or 365F
Grease your bundt cake pan with oil or butter..
In a medium size bowl, add the 200 grams brown sugar, 100 grams granulated sugar and cinnamon and using a whisk mixing them together until well combined. Set aside.
In a small bowl dissolve the dried yeast with some of the milk and let stand for 10 minutes so it activates.
In a mixing bowl add the flour, salt, sugar, butter,egg, milk and dissolved yeast and mix on low speed for 3 minutes then mix on medium speed for additional 3 minutes or until dough is well mixed.
Set dough aside covered for 30 minutes.
Roll dough into a log shape about 1 inch in thickness and cut with a knife or dough scraper pieces of 1/2 inch and slight round them in between your palms and set aside.
In a microwave safe bowl melt the butter in interval of 15 minutes until completely melted.
Dip each of the dough pieces into the melted butter and roll into cinnamon mixtures and place into bundt cake pan.
Repeat until all dough pieces are coated and place into cake pan. Sprinkle let over cinnamon mixture through out the cake over the dough. Dough pieces should fill the cake pan just above half way mark.
Cover with a plastic or cloth and proof at ambient temperature for about 60 minutes or until dough reaches the just under the cake pan rim.
Once proofing is done place into your preheated oven and bake for 20-25 minutes or until our notice a nice golden brown color.
[wpurp-searchable-recipe]Classic Easy Monkey Bread Recipe From Scratch – Super yummy classic easy monkey bread recipe from scratch. This yummy classic easy monkey bread recipe from scratch will have everyone licking their fingers and craving for more. These bite size gooey cinnamony sticky sweet delicacies are the perfect center piece dessert. Dipped in butter then tossed in a cinnamon sugar coating then baked to perfection. No wonder these are a classic treat. – Coating, butter (1 cup), brown sugar (1 cup), granulated sugar (1/2 cup), Sweet Bread Ingredients, All Purpose Flour (2 cups), salt (1 teaspoon), Milk (1/2 cup), egg (1 large egg), butter – 2 teaspoons, Sugar (2 tablespoon), Dried Yeast (2 tablespoon), , Preheat your oven to 185C or 365F; Grease your bundt cake pan with oil or butter..; In a medium size bowl, add the 200 grams brown sugar, 100 grams granulated sugar and cinnamon and using a whisk mixing them together until well combined. Set aside.; In a small bowl dissolve the dried yeast with some of the milk and let stand for 10 minutes so it activates.; In a mixing bowl add the flour, salt, sugar, butter,egg, milk and dissolved yeast and mix on low speed for 3 minutes then mix on medium speed for additional 3 minutes or until dough is well mixed.; Set dough aside covered for 30 minutes.; Roll dough into a log shape about 1 inch in thickness and cut with a knife or dough scraper pieces of 1/2 inch and slight round them in between your palms and set aside.; In a microwave safe bowl melt the butter in interval of 15 minutes until completely melted.; Dip each of the dough pieces into the melted butter and roll into cinnamon mixtures and place into bundt cake pan.; Repeat until all dough pieces are coated and place into cake pan. Sprinkle let over cinnamon mixture through out the cake over the dough. Dough pieces should fill the cake pan just above half way mark.; Cover with a plastic or cloth and proof at ambient temperature for about 60 minutes or until dough reaches the just under the cake pan rim.; Once proofing is done place into your preheated oven and bake for 20-25 minutes or until our notice a nice golden brown color.; Once baking is complete remove from oven and turn over onto plate. Drizzle with frosting, melted chocolate, caramel or dust with icing sugar.; ; – – Dessert – American – best monkey bread – cinnamon bread recipes – cinnamon monkey bread recipe – Classic Easy Monkey Bread Recipe – easy monkey bread – easy monkey bread recipe – homemade monkey bread recipe – Monkey bread – Monkey bread recipe – monkey bread recipe from scratch – original monkey bread recipe – quick monkey bread – Sweet bread recipes – Bread Recipes – Dessert Recipes – Egg Recipes – Sweet Bread recipes – . Classic Easy Monkey Bread Recipe – cinnamon recipes – monkey bread recipe – monkey bread recipe from scratch – sweet bread recipes[/wpurp-searchable-recipe]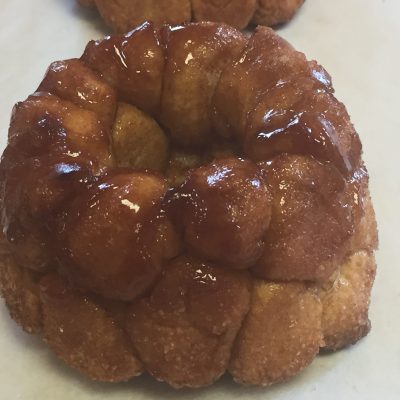 Classic Easy Monkey Bread Recipe from Scratch
---
---