The Best Vegan Crispy Bacon Recipe Made With Banana Peel
The best vegan crispy bacon recipe made with Banana Peel, in other words, banana skin, that results in a deliciously chewy tasty crisp and greasy plant-based bacon that actually tastes like real bacon.
Yes, you read the title right! Plant-based vegan bacon made with banana peel or banana skin, whatever you want to call it. Surprisingly Banana peel or discard banana skin makes the best crispy vegan bacon, I'm not kidding… and the best thing of all is that this vegan bacon is made without liquid smoke, without carrots, without tofu, without mushrooms. without coconut and only takes a few minutes to prepare using a stove, oven, or air fryer.
Most people including myself have been discarding banana peel since I can remember, now with this vegan banana peel bacon recipe you have some inspiration to put it to use and surprise your family or guests.
What Make This Banana Skin Bacon Great?
Easy to make
Vegan
Plant-based
Vegetarian
Gluten-Free
Sustainable
Contains vitamins B6 and B12
Source of magnesium and potassium
No mushrooms
No carrots
No tofu
No smoke Flavor
Other Ways To Cook Your Vegan Bacon
There are 3 main method that you can use to make this banana skin bacon. The one based on this recipe is using the frying method. If you to make this vegan recipe without oil, then you have two choices.
Air Fryer Method – Omit the oil from the and air fry your banana skins for about 10 minutes.
Oven Method – Remove the oil from the recipe and line a baking tray with aluminum paper. Preheat the oven to 350°F (175)°C and bake for approxeatly 5 minutes on each side.
Ready to make this Vegan Plant Based Crispy Bacon With Your Discarded Banana Peels? Let's do it!
Ingredients For Vegan Bacon
3 ripe discard banana peels
1 teaspoon garlic powder
1 teaspoon smoked paprika (Hot or Sweet)
4 tablespoons soy sauce
2 tablespoons maple syrup or agave
3 tablespoon olive or avocado oil, vegetable oil, or corn oil 
Good To Know
To make your Vegan Banana bacon taste awesome, ensure that the banana skin is ripe, yellow with lots of brown spotting. This will result in crispy plant-based bacon that tastes great. Never use green bananas unripened bananas, your bacon will taste bitter, horrible and won't fry or bake properly.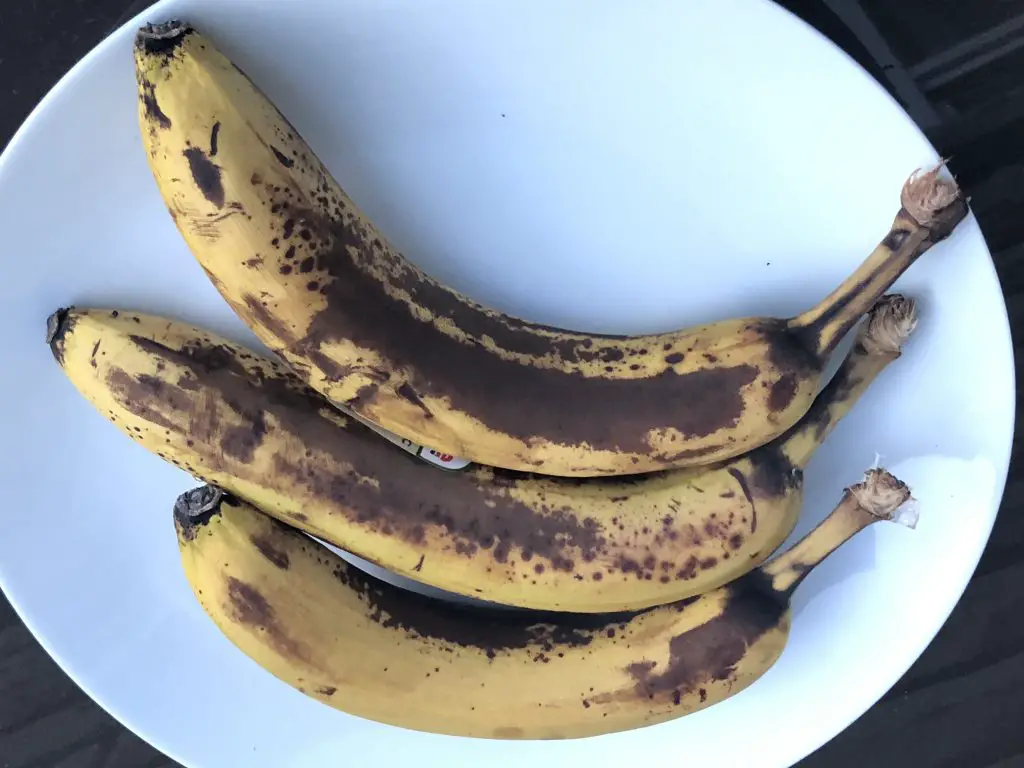 How To Make Banana Peel Bacon?
Peel any stickers off the banana and cut of the ends on both sides. Make two verticle cuts on each opposite side using a knife.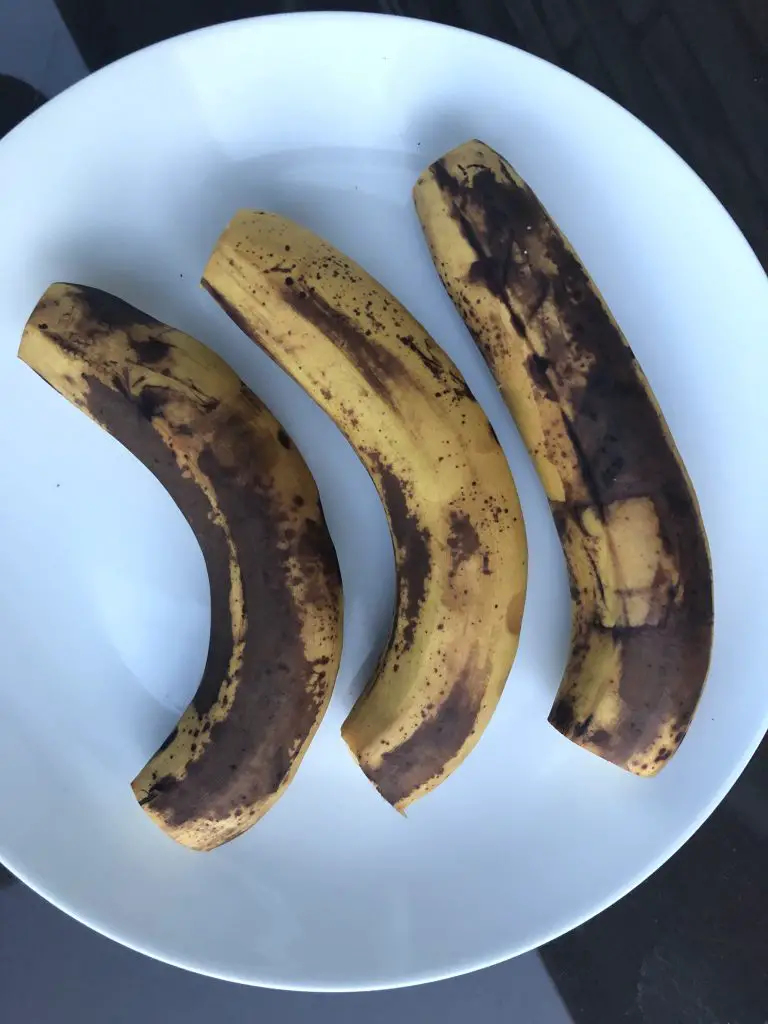 2. Using a spoon, scrape off the inside flesh of the banana down to the skin. Be careful when lifting up the skin, it is very delicate and can tear very easily.
3. Prepare the marinade by adding the soy sauce, maple syrup, garlic powder, and paprika into a deep bowl and mix to combine. I used a large soup bowl. Soak the banana skins in the marinade for 15 minutes.
4. Add oil into a large skillet and heat on medium heat. Once the oil is hot, carefully add each banana skin and fry for 3 minutes on each side.
4. Once fried, remove banana skin bacon and place onto a plate lined with paper towels. They will crisp up even more once cooked.
5. Enjoy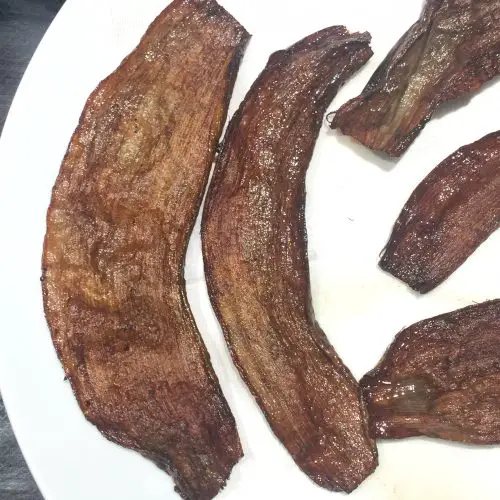 Easy Vegan Crispy Bacon With Banana Peel
Yes, you read the title right! Plant-based vegan bacon made with banana peel or banana skin, whatever you want to call it. Surprisingly Banana peel or discard banana skin makes the best crispy vegan bacon
Ingredients  
3

ripe discard banana peels

1

teaspoon

garlic powder

1

teaspoon

smoked paprika

Hot or Sweet

4

tablespoons

soy sauce

2

tablespoons

maple syrup or agave

3

tablespoon

olive or avocado oil

vegetable oil, or corn oil
Instructions 
Peel any stickers off the banana and cut of the ends on both sides. Make two verticle cuts on each opposite side using a knife.

Using a spoon, scrape off the inside flesh of the banana down to the skin. Be careful when lifting up the skin, it is very delicate and can tear very easily.

Prepare the marinade by adding the soy sauce, maple syrup, garlic powder, and paprika into a deep bowl and mix to combine. I used a large soup bowl. Soak the banana skins in the marinade for 15 minutes.

Add oil into a large skillet and heat on medium heat. Once the oil is hot, carefully add each banana skin and fry for 3 minutes on each side.

Once fried, remove banana skin bacon and place onto a plate lined with paper towels. They will crisp up even more once cooked.

Enjoy
---
---