Cranberry Almond and Walnut Cheese Ball Recipes For Dipping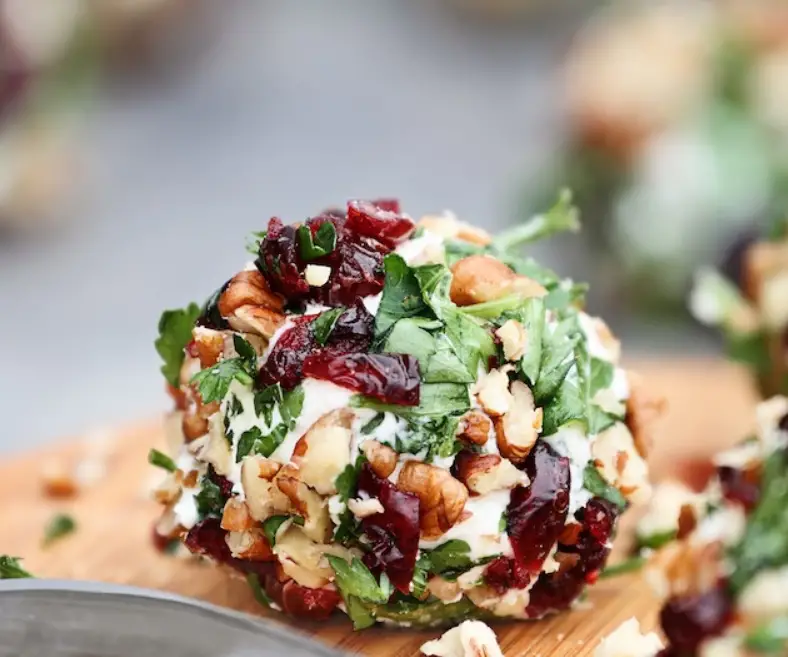 A yummy cranberry almond and walnut cheese ball recipe for dipping all your favorite crackers or vegetables. Healthy and gluten free you and your guest will love this cheesy appetizer dip.
Ingredients
8 ounces cream cheese (225 grams)
8 ounce fresh goat cheese (225 grams)
1 cup shredded Gouda cheese
2 cups dried chopped cranberries 
1 cup chopped unsalted roasted almonds
1 cup chopped roasted walnuts
1/4 cup fresh sliced chives
1.4 cup finely diced leaks or onion
1/2 tsp coriander
1/2 teaspoon garlic powder
1 tablespoon chopped cilantro
Instructions
In a good size bowl, add the cream cheese, goat cheese, shredded Gouda cheese, half of the roasted almonds, half of the walnuts, half of the dried cranberries, half of the sliced leaks, half of the sliced chives and spices and mix with a hand mixer until well combined.
Once mixture is complete, put it onto the center of plastic wrap forming it into a ball while sealing the mixture.
Freeze for 30 minutes or Refrigerate for 1 hour so that the cheese ball can slightly set
In the meantime prepare your crumb mixture
In a bowl add all rest of the roasted almonds, walnuts, cranberries, leaks, cilantro and chives and toss them together. Set aside
Remove and unwrap the cheese ball roll and roll it onto mixed topping and place onto center of decorative plate
Serve with naan chips, pita chips, multigrain crackers or broccoli, celery and baby carrots.
[wpurp-searchable-recipe]Cranberry Almond and Walnut Cheese Ball Recipes For Dipping – A yummy cranberry almond and walnut cheese ball recipe for dipping all your favorite crackers or vegetables. Healthy and gluten free you and your guest will love this cheesy appetizer dip. – cream cheese (225 grams), fresh goat cheese (225 grams), shredded Gouda cheese, dried chopped cranberries, chopped unsalted roasted almonds, chopped roasted walnuts, fresh sliced chives, finely diced leaks or onion, coriander, garlic powder, finely chopped cilantro, , In a good size bowl, add the cream cheese, goat cheese, shredded Gouda cheese, half of the roasted almonds, half of the walnuts, half of the dried cranberries, half of the sliced leaks, half of the sliced chives and spices and mix with a hand mixer until well combined.; Once mixture is complete, put it onto the center of plastic wrap forming it into a ball while sealing the mixture.; Freeze for 30 minutes or Refrigerate for 1 hour so that the cheese ball can slightly set; In the meantime prepare your crumb mixture; In a bowl add all rest of the roasted almonds, walnuts, cranberries, leaks, cilantro and chives and toss them together. Set aside; Remove and unwrap the cheese ball roll and roll it onto mixed topping and place onto center of decorative plate; Serve with naan chips, pita chips, multigrain crackers or broccoli, celery and baby carrots.; ; – – Appetizer – American – cheese ball recipe – cheesy recipes – Cranberry Almond and Walnut Cheese Ball Recipes For Dipping – Cranberry Almond Cheese Ball Recipes For Dipping – easy appetizer recipe – recipes with cheese – Appetizer Recipes – Gluten Free Recipes[/wpurp-searchable-recipe]
Cranberry Almond and Walnut Cheese Ball Recipes For Dipping
---
---