Taralli Recipe Without Wine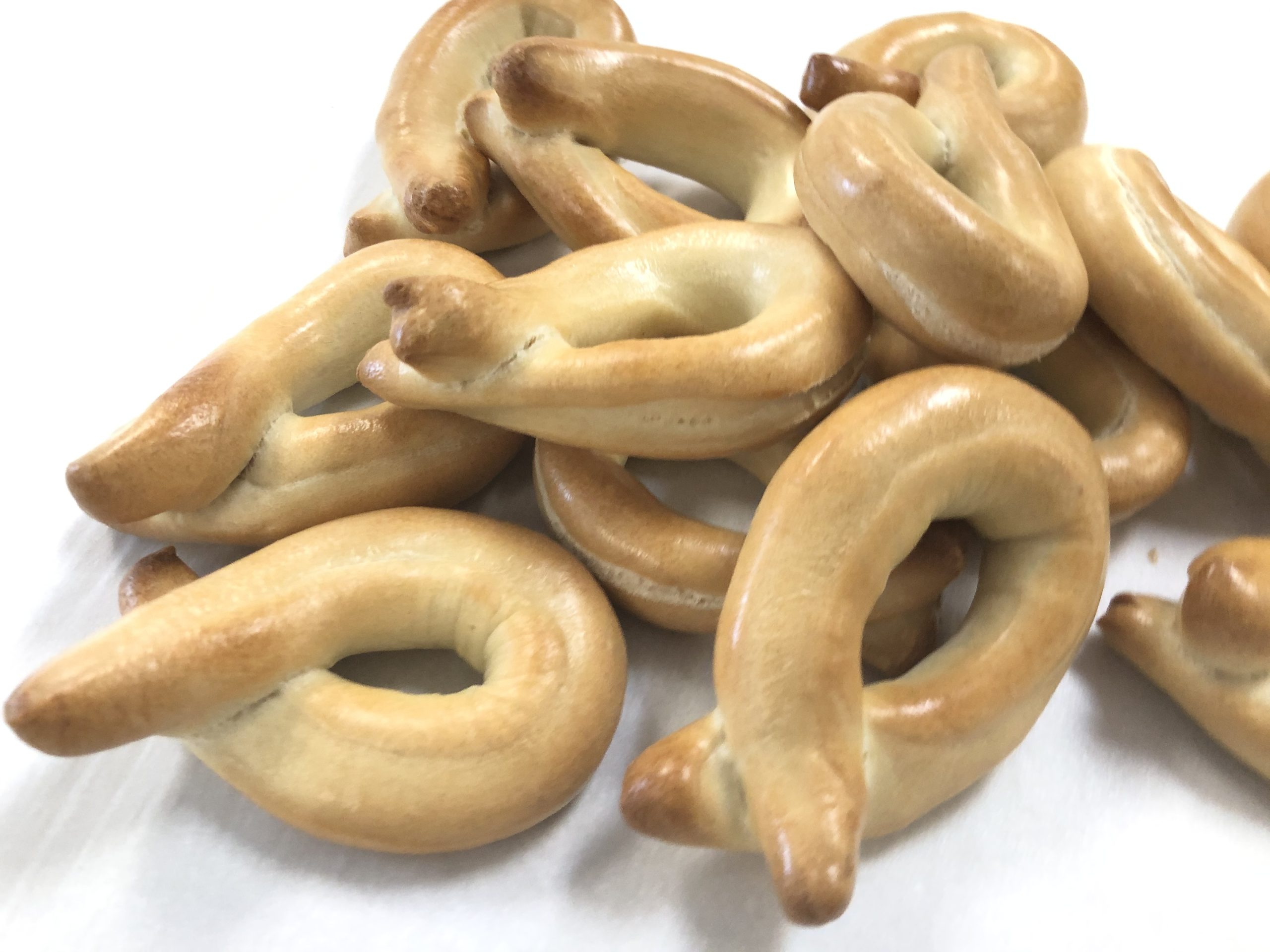 Taralli is a popular Italian snack with a crunchy texture similar to a cracker or bread stick. This easy homemade plain taralli recipe is made without wine and has just five ingredients, flour, water, salt, olive oil and yeast.
Taralli's are simple to make and require very little effort. Once you knead the dough you portion it into small 20 gram pieces and roll out the dough into long strands connecting the ends. The taralli dough is then added to a salt water bath then baked at 200 degrees Celsius for about 16-18 minutes. What I love most about these Italian crunchy snacks is that they can be made in so many variations from plain to savory or sweet.
Ingredients For Homemade Italian Taralli Without Wine:
3 cups all purpose flour (360 grams)
2/3 cup water (160 grams)
1 teaspoon active dry yeast (3 grams)
1 teaspoon salt (6 grams)
2 tablespoons Olive oil (30 grams)
Ingredients For Boiling Taralli:
4 liters water (4000 grams)
2 teaspoons salt (12 grams salt)
How To Make Homemade Italian Taralli?
Dissolve the yeast in 2 tablespoons of warm water and let it stand for 10 minutes or until you see it bubbling at the surface.
Add the flour, salt, olive oil, water and yeast into a mixing bowl with a hook attachment and mix the dough on low speed (Setting 2 Kitchenaid machine) for 3 minutes.
Increase the mixer speed to number 4 and continue to mix until the dough until it is fully developed. The dough should be smooth and stretchy.
If your mixing the dough by hand, add the flour into a large bowl and create a well in the center.
Add in the rest of the ingredients and work the mixture by hand or with a spatula until the flour absorbs all the liquids.
Knead and work the dough by overlapping one end onto the other, continue this kneading process until your dough is fully mixed about 10 minutes.
Cover the the mixed dough with plastic for 20 minutes.
Transfer the dough on a lightly floured working surface and portion the dough into small 20 gram pieces.
Slightly round them or shape into small logs. Cover the portioned pre-shaped dough pieces and let it rest for 15 minutes.
Working with a lightly floured surface, stretch and roll out each piece starting from the center outward to about 8 inches in length and overlap the two bottom ends pressing down gently.
Transfer to a lightly floured tray or plate and cover with plastic.
Preheat oven to 400°F (200°C), set rack to middle position and line a baking pan with parchment paper.
Add 4 liters of water and 2 teaspoons of salt into a large pot and bring to a boil.
Once the water comes to a boil, work with small batches and add the taralli into the boiling salt water bath, let it submerge, when the taralli rises up to the top, about 30 seconds, remove it with a slotted spoon or strainer and transfer onto baking tray spacing them about 1 inch apart and repeat until you've used up all the dough.
Place the tray into the oven and baking for approximately 16-18 minutes or until the taralli is light golden brown.
Baking time may need to be increased depending on the weight and thickness of each taralli.
Remove from oven and let them cool for about an hour before eating.
How Long Will Homemade Taralli Keep For?
Home made taralli will keep for about two week in an airtight tight jar or container. For longer self life, consider freezing your baked taralli, you can freeze them for up to three month and just remove an hour before serving them.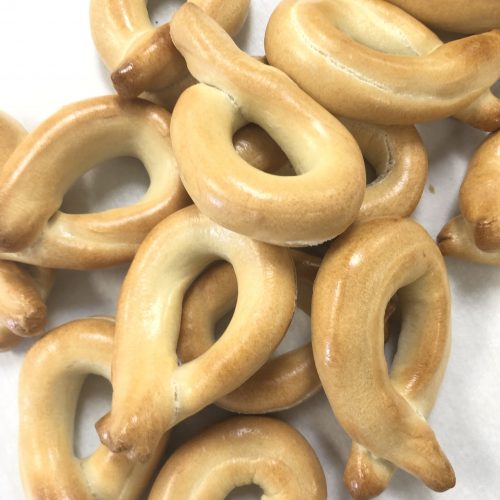 Crunchy Taralli Without Wine
This easy homemade plain taralli recipe is made without wine and has just five ingredients, flour, water, salt, olive oil and yeast.
Ingredients  
INGREDIENTS FOR HOMEMADE ITALIAN TARALLI WITHOUT WINE:
3

cups

all purpose flour

360 grams

2/3

cup

water

160 grams

1

teaspoon

active dry yeast

3 grams

1

teaspoon

salt

6 grams

2

tablespoons

Olive oil

30 grams
INGREDIENTS FOR BOILING TARALLI:
4

liters

water

4000 grams

2

teaspoons

salt

12 grams salt
Instructions 
Dissolve the yeast in 2 tablespoons of warm water and let it stand for 10 minutes or until you see it bubbling at the surface.

Add the flour, salt, olive oil, water and yeast into a mixing bowl with a hook attachment and mix the dough on low speed (Setting 2 Kitchenaid machine) for 3 minutes.

Increase the mixer speed to number 4 and continue to mix until the dough until it is fully developed. The dough should be smooth and stretchy.

If your mixing the dough by hand, add the flour into a large bowl and create a well in the center.

Add in the rest of the ingredients and work the mixture by hand or with a spatula until the flour absorbs all the liquids.

Knead and work the dough by overlapping one end onto the other, continue this kneading process until your dough is fully mixed about 10 minutes.

Cover the the mixed dough with plastic for 20 minutes.

Transfer the dough on a lightly floured working surface and portion the dough into small 20 gram pieces.

Slightly round them or shape into small logs. Cover the portioned pre-shaped dough pieces and let it rest for 15 minutes.

Working with a lightly floured surface, stretch and roll out each piece starting from the center outward to about 8 inches in length and overlap the two bottom ends pressing down gently.

Transfer to a lightly floured tray or plate and cover with plastic.

Preheat oven to 400°F (200°C), set rack to middle position and line a baking pan with parchment paper.

Add 4 liters of water and 2 teaspoons of salt into a large pot and bring to a boil.

Once water comes to a boil, work with small batches and add the taralli into the boiling salt water bath, let it submerge, when the taralli rises up to the top, about 30 seconds, remove it with a slotted spoon or strainer and transfer onto baking tray spacing them about 1 inch apart and repeat until you've used up all the dough.

Place tray into the oven and baking for approximately 16-18 minutes or until the taralli is light golden brown.

Baking time may need to be increased depending on the weight and thickness of each taralli.

Remove from oven and let the cool for about an hour before eating.

HOW LONG WILL HOMEMADE TARALLI KEEP FOR?

Home made taralli will keep for about two week in an airtight tight jar or container. For longer self life, consider freezing your baked taralli, you can freeze them for up to three month and just remove an hour before serving them
---
---