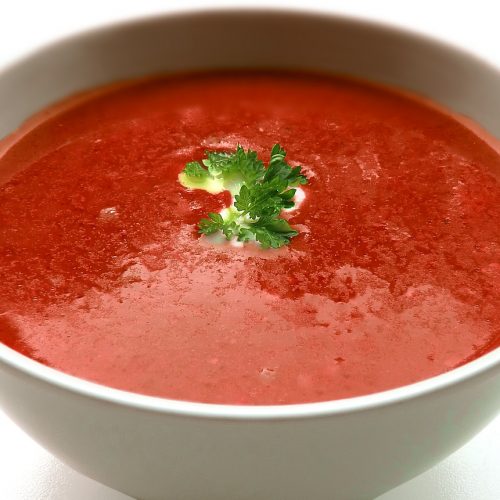 Vegan Plomeek Soup Recipe
A classic Vulcan food, we've added a twist to this plomeek soup recipe by making it vegan. Try our popular trek inspired vegan plomeek soup recipe today. This soup is light a hearty and super easy to make, it will definitely hit the spot. Traditionally plomeek soup is served with sour cream that is swirled in the center to resemble the galaxy topped with a sprinkle of finely chopped parsley.


3

tablespoon

of vegan margarine

21/2

cups

of water

1/2

cup

of oat milk or almond milk

pinch

of nutmeg

1/4

pound

of turnips peeled and cut

6

tablespoon

tomato paste

12

ounces

potatoes peeled and chopped into cubes

1

large onion chopped

3

garlic cloves crushed

pinch

of black pepper

1

celery stock sliced

1 1/2

teaspoons

salt

1/2

teaspoon

dried basil

2

tablespoons

fresh parsley finely chopped

2

tablespoons

vegan sour cream
Add the vegan margarine into a medium size pot and melt on medium low heat.

Add in the onions and garlic, saute until they are lightly golden brown.

Pour in the water, oat milk, potatoes, turnips, celery, tomato paste and salt, cook until they are soft.

Add in the nutmeg, black pepper and basil and cook for additional 5 minutes.

Cool 10 minutes.

Place soup into a blender and puree until smooth.

Service with teaspoon of vegan sour cream and a dash of parsley.