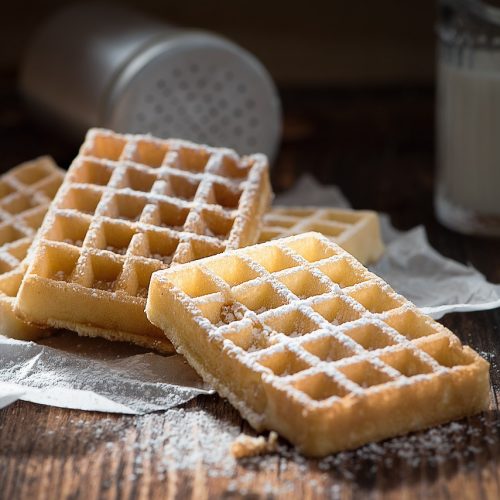 Waffles Easy Recipe
Start your morning with our waffles easy recipe that will have everyone asking for seconds. This classic buttery easy waffle recipe can be prepared in just a few minutes. Enjoy these waffles with your favorite syrup, jam, ice cream and fresh fruit or simply with a dash of icing sugar.


240

grams

all-purpose flour

2 cups

300

grams

of milk or almond milk

1 1/4 cups

113

grams

unsalted butter melted

1/2 cup

4

grams

salt

1 teaspoon

25

grams

brown sugar

5 teaspoons

15

grams

baking powder

3 teaspoons

100

grams

whole eggs beaten

2 large eggs

2

grams

natural vanilla extract

1/2 teaspoon
Sift together in a large bowl the flour, salt, brown sugar and baking powder using a whisk or fork.

Add the milk, melted butter, beaten eggs and vanilla extract and mix until the batter is formed and set aside.

Preheat the waffle machine.

Pour the waffle batter into a preheated waffle machine.

Cook until waffles lightly golden brown and edges are crispy.

Enjoy with your favorite syrup and fruits.