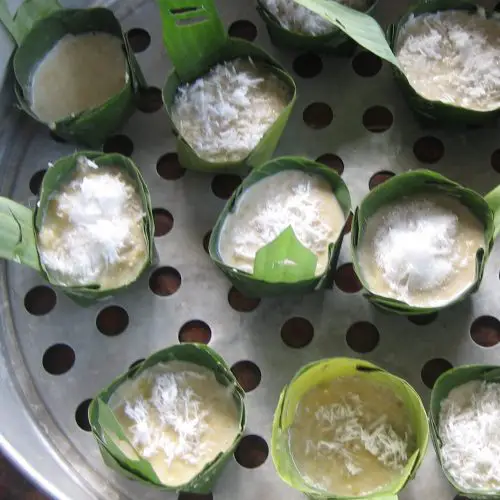 Thai Banana Steamed Cake
Thai banana cake dessert has a unique texture that you will love and is different from any other dessert, I can describe the texture as sweet, moist, soft, chewy, and super tasty. If you're looking for a great-tasting dessert that the whole family will, you have to try this Thai banana steam cake recipe.
Roughly Mash or cut the banana into small tiny pieces id you wanr to see oieces of banana in the cake. Set aside.

Sift the tapioca starch and rice flour into a bowl.

Pour 1/4 of the coocnut milk to the rice flour mixture and mix using your hands into a pasty dough about 3-4 minutes. Add a little more coconut milk if needed to get the consistency.

Add the sugar and salt to the dough and mix until slight combined, then add small portions of the coconut milk mixing inbetween each addition until well combined; the batter will be thick.

Combine the mashed or cut bananas into the mixture and mix until well incorporated.

Prepare your steaming pot with water and bring to a boil.

Fill the banana molds with 3-4 tablespoons of batter or you can use silicone muffin molds. Then add some shredded coconut onto the top.

Place into steamer and steam for 20-25 minutes.

Best served warm.

Enjoy!