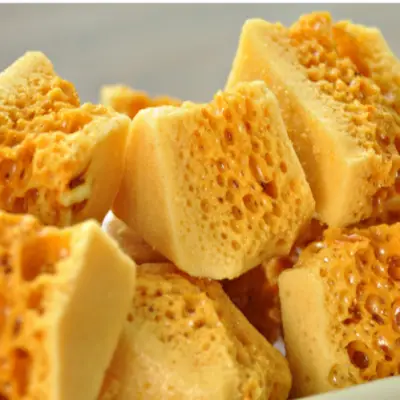 Hokey Pokey Honeycomb Toffee Recipe
Do you love toffee? Craving for something sweet? Here is an easy hokey pokey honeycomb toffee recipe also referred to as sponge toffee, sponge candy, sea foam or cinder toffee. Believe it or not this crunchy candy only takes about fifteen minutes to prepare and uses only 5 ingredients. Growing up sponge toffee was one of my favorites confectionery treats. Crunchy, light, super sweet and yummy sticky texture is just a few characteristics I can describe. I can still smell the sweet fragrance of freshly prepared sponge toffee at the CNE back in the days.


Line and grease with butter a 12×12 inch baking pan. The parchment paper should be about 2 inches higher then the top of the baking pan.

In a small bowl combine the baking soda and cream of tartar and stir with a fork or whisk. If your using vinegar instead you will add after you've added the baking soda into the sugar mixture.

In a large size sauce pan, add the water first followed by the sugar and lastly the corn syrup.

Cook this on high heat without stirring until the mixture temperature reached 300F ( 150c) and remove from heat immediatel

Shift in the baking soda mixture and stir vigorously with a wooden spoon or heat proof spatula. Do not use a metal spoon as the heat will conduct through the metal spoon and you may get burnt. As soon as you add the baking soda the toffee will start to froth, continue stirring until you can't see the baking soda anymore. Don't over stir as it will degas your toffee. Also be extra careful while stirring as the caramelized sugar will be extremely hot and can burn you.

Once your done mixing in the baking soda transfer the toffee into your lined baking pan . The toffee will continue to froth and expand in your baking pan.

Cool down for approximately 2 hours then simply break pieces of your sponge toffee and place into serving bowl or air tight jar. The self life for this toffee is about a month stored in an air tight container.