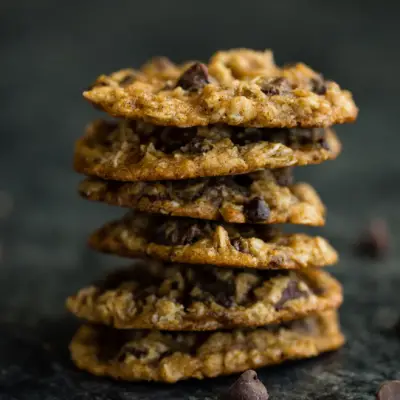 Easy Quick 3 Ingredient Oatmeal Chocolate Chip Cookie Recipe (Gluten Free)
Craving for a chewy yummy cookie? Try our easy quick 3 ingredient oatmeal chocolate chip cookie recipe ( Gluten Free) made with peanut butter spread, gluten free rolled oats and semi milk chocolate chips. If you have an allergy with nuts you can simply replace the peanut butter with 3 ripe smashed bananas or 125 grams (1/2 cup) apple sauce. Oatmeal cookies has always been one of my favorites cookies growing up and not to mention oats are high in fiber and taste delicious with pretty much anything.


Preheat your oven to 165°C or 330°F

Line your cookie sheet with parchment paper

In a medium size bowl add the rolled oats, peanut butter and using a spatula or beater mix together just until combined.

Add in the semi sweet chocolate chips and combine together with cookie batter just until well incorporated

Using an ice cream scoop or tablespoon, scoop dollops of batter and place onto baking sheet spacing them about 1 1/2 inch apart

Place cookie sheet into preheated oven and bake for 10-12 minutes

Let cookies cool down on baking sheet for 10-15 minutes before transferring to plate.